Odoo 13, the fastest Odoo ever
We are proud today here at Odoo to announce the release of Odoo 13, our fastest and most mature version to date. 
I'll talk about the speed at the end (hint, it's many times faster than ever before), but that's not all our fantastic R&D team did. We added nine new apps that will cover many more of your business demands while improving usability all around. 
We can confidently say that Odoo 13 is the software your business needs.  
Let me walk you through some of these new apps and features. You can find a list of all the new features on our release note.
A brand new Accounting 
Accounting underwent an extensive change this year. We thoroughly reviewed every screen, every process to make it the best possible Accounting solution from better reconciliation, better usability everywhere, on Journal, Journal entries, but also new reports, consolidation, asset refactoring, more straightforward tax configuration, deferred expenses, and many more. Oh, and a 93% OCR success rate is also there to make your life easier. 
​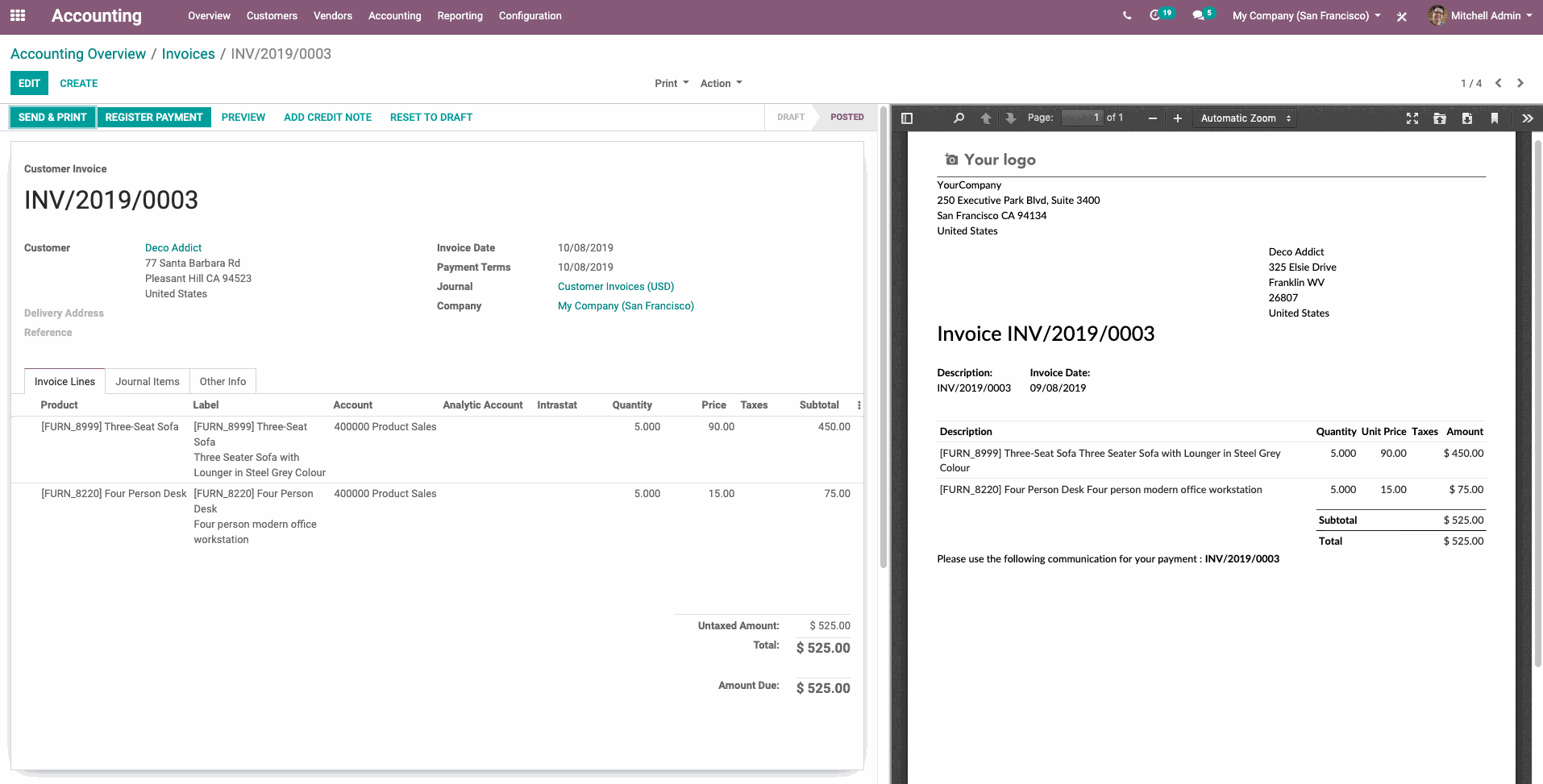 New and improved views
The first of the list is Gantt view; you can now easily drag & drop inside the view, a one-click record creation, resize, and much more, it's never been this easy before and is now in more apps than ever before. 
​

​
The Activity view has now more features and better usability for activity scheduling; the Calendar view lets you respond to an activity from the popup; sequence can be re-arranged from the Kanban view and much more. 
​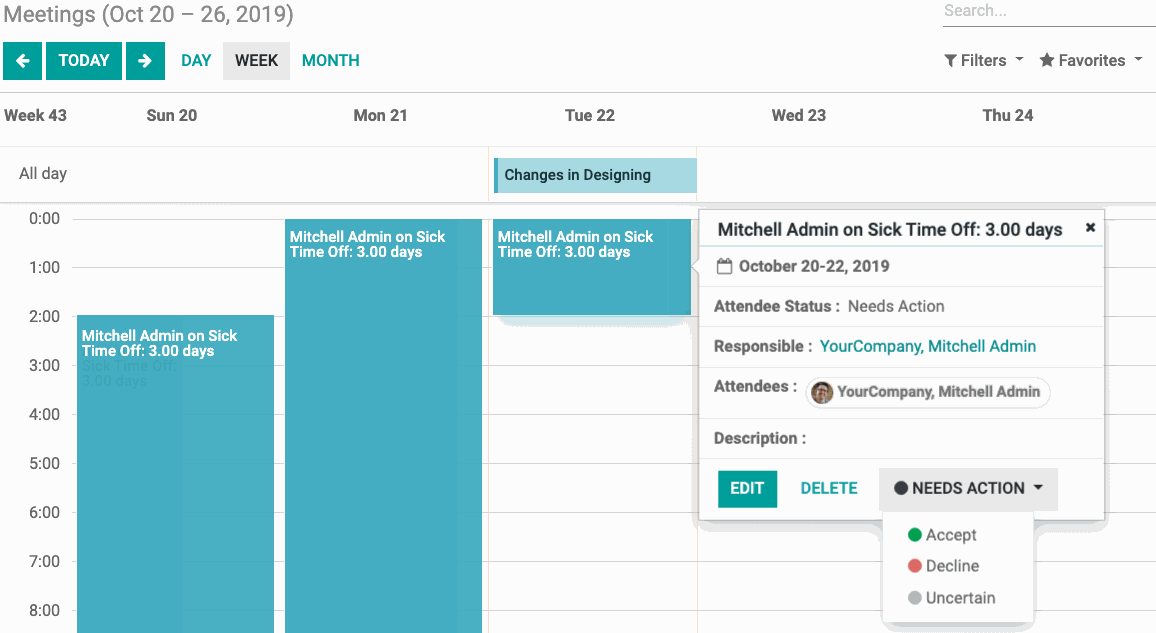 ​
The all in one Field Service solution 
Odoo Field Service Management combines everything you need to plan and manage appointments, track work time, sell products, create reports with custom worksheets, and issue invoices you can now deliver excellent services to your customers everywhere. With our map view, it's never been easier to see the next appointment and calculate a route to get there.  
​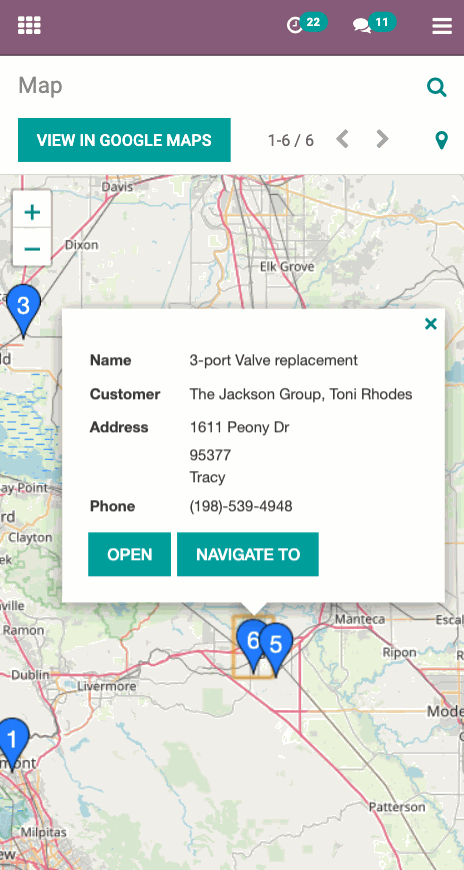 R​ent your products or properties easily​ 
With our new Rental app, you can manage all your rental needs from one single view. Create a rental order, schedule, deliver, return, and invoice in moments. Get all the information you need directly on the rental order. You can also track availability with an overview of all your products and see which one brings the most revenue with financial reports. 
Discover more in our video presentation of the app. 
Market yourself 
Odoo has many Marketing tools. It is a complete solution on the market with Marketing Automation, Email Marketing, SEO, Content such as Website, Blogs, Survey, Events, Forum, ... for Odoo 13, SMS Marketing, and Social Marketing join them but before we jump in those two, let me show you some of the improvements to Blogs and Events. 
Do you know what's critical about your content online? It has to look good. We don't want our users to have to be designers to make something beautiful. We want it beautiful out of the box. 
Our previous Blog feature was good; it worked, it has social media links, and everything you might need, but now? It looks fantastic, right there, when you create it. Beauty is in the eye of the beholder, but I hope you'll agree with us. 
​

What about Events? Your events deserve a page as amazing as your event is going to be. 
​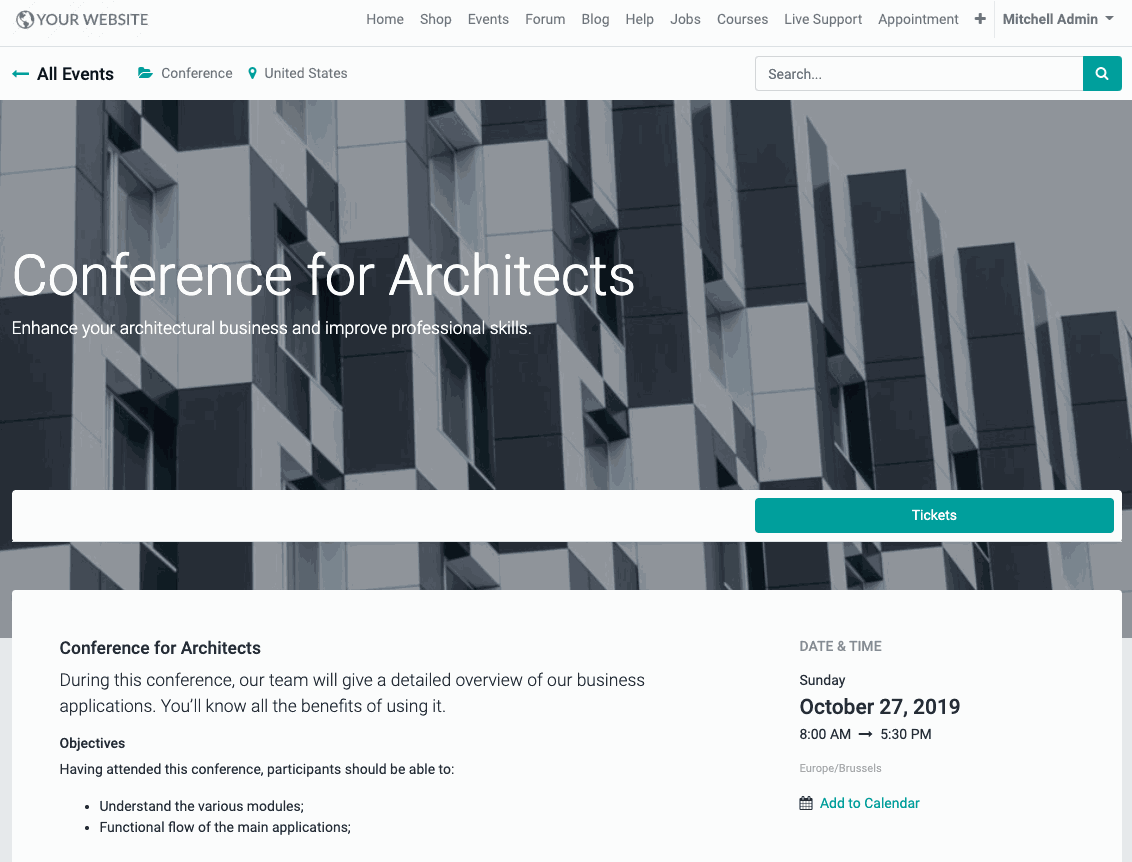 That's not all; we improved the look of everything, you can discover all of that yourself though, all our themes are now Open Source! 
Now, how do you drive traffic to these beautiful new pages? With our new Social Marketing & SMS Marketing apps. 
SMS lets you reach people anywhere, anytime. You can send SMS to abandoned carts, old leads, and people subscribed to an event, there are many cases were contacting people in their pocket is critical. Okay so, you increased traffic, but was it worth it? You can know all of that thanks to our analytic tools in SMS Marketing, Leads, Revenue, all of that will be no secrets to you. It is fully integrated with your accounting, of course. 

​
What about engaging with your community? Social Marketing is there for that. With Social Marketing, you get a full overview of what people are saying about you, what people are saying about your industry, competitors, whatever you want to track all of that for every social media and as many accounts as you need. 
Keeping track is good, but what about engaging with them? Well, create a new post, select where you want it to show up, schedule it, and that's it, as easy as that. And just like with SMS, you can track the effect of those campaigns! 
​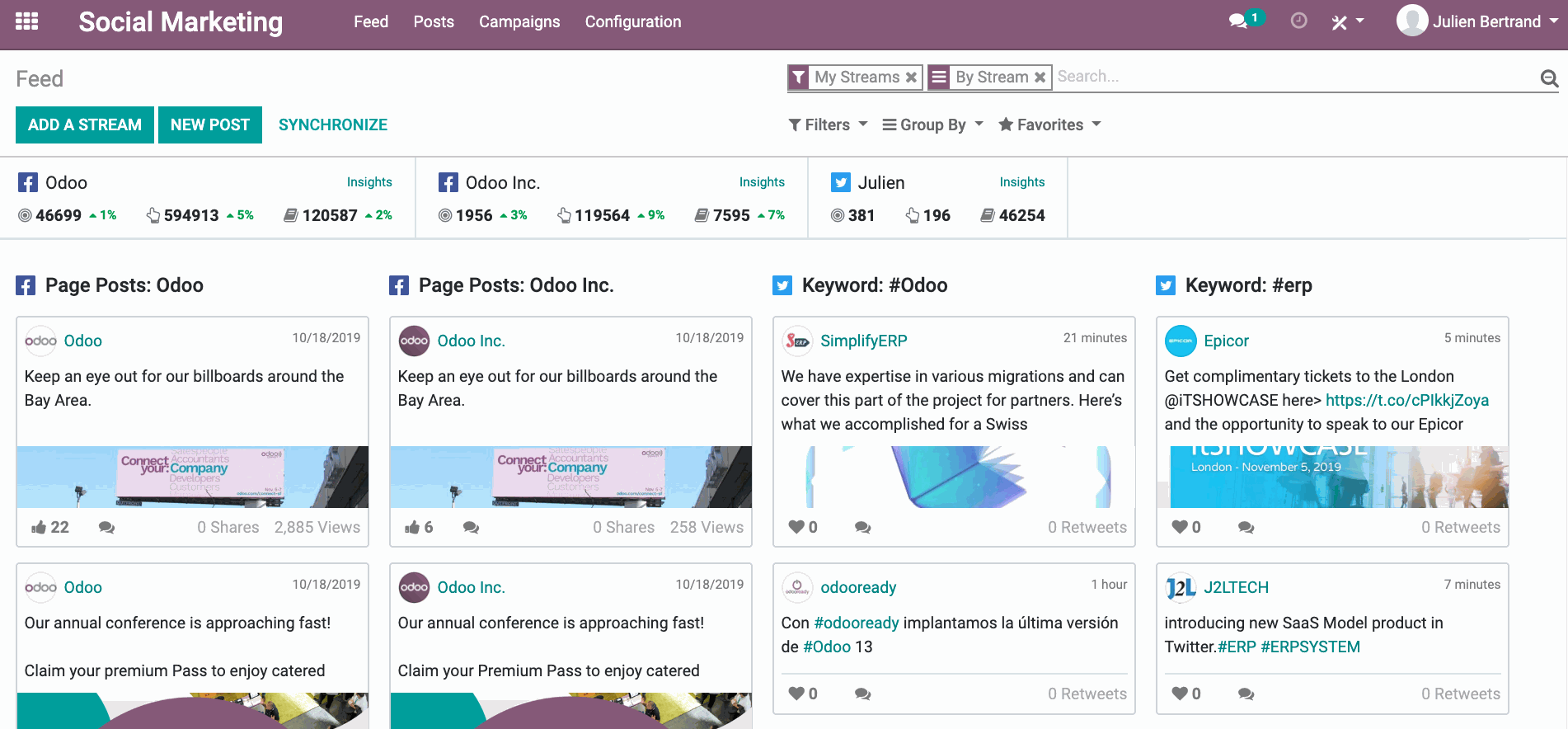 ​
Recruitment made easy 
Recruiting is hard. You know it, everyone knows it. Finding the right candidate is like finding a needle in a haystack, so we thought, how can we make it easier? That is how we ended up developing our Referral app, referrals might not be your biggest source of recruitment leads, but it is probably your biggest source of hires. Many studies show that Referrals are the candidates most likely to be hired by a large margin, our new app lets your employees build a team of superheroes through referrals, and they get to enjoy rewards for taking an active part in finding the next talent of the company. 
​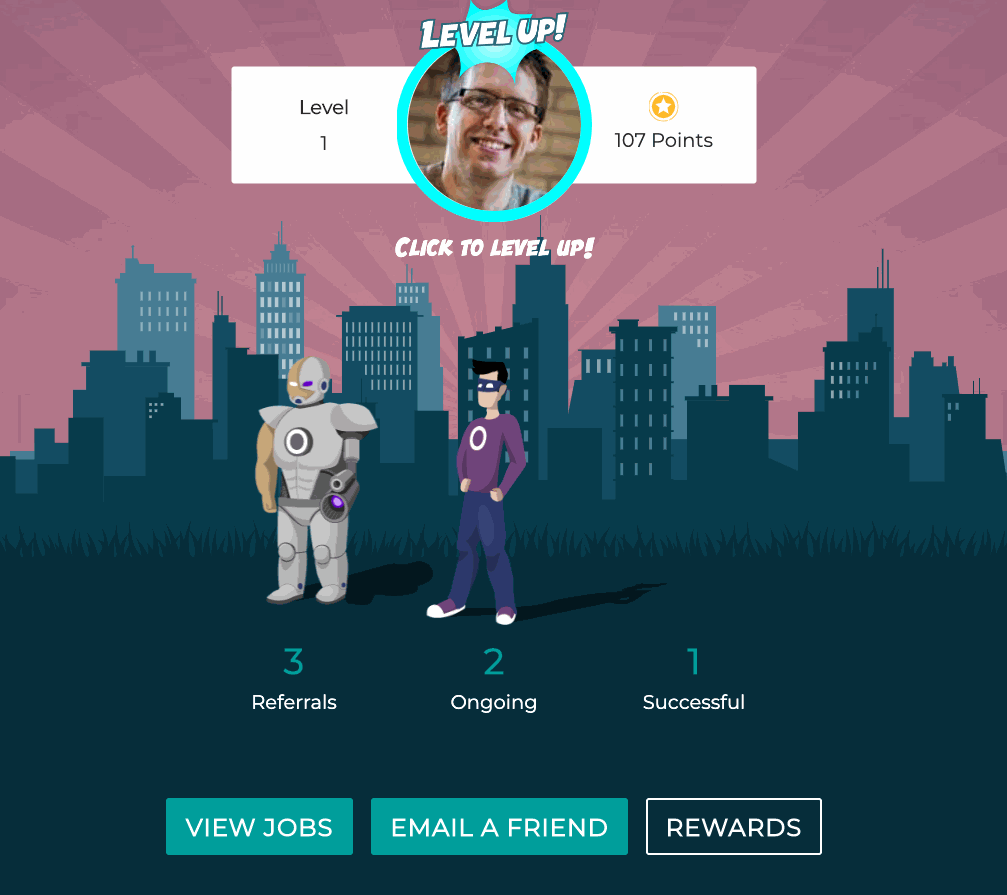 From recruitment to onboarding 
As you'll be hiring plenty of people with your new referral app, you'll need an easy way to process all of those new employees, that's why we made a wholly automated onboarding plan, one click and everything is scheduled to happen, meetings, laptop, phone, whatever it may be, you can include it in the program, then whoever is in charge on each steps gets a notification and can
​

The best open-source LMS 
Speaking of onboarding, if you are a teacher, a coach, or as we just saw, an onboarding manager, Odoo eLearning is the perfect Learning Management System (LMS) for you. 
With a beautiful and easy-to-use interface for the users and course manager alike, it is the all in one solution you need with integrated quizzes, gamification, certifications, possible monetization of content, and complete reporting you won't need to juggle multiple platforms anymore.  
Discover every feature in our app video: 
​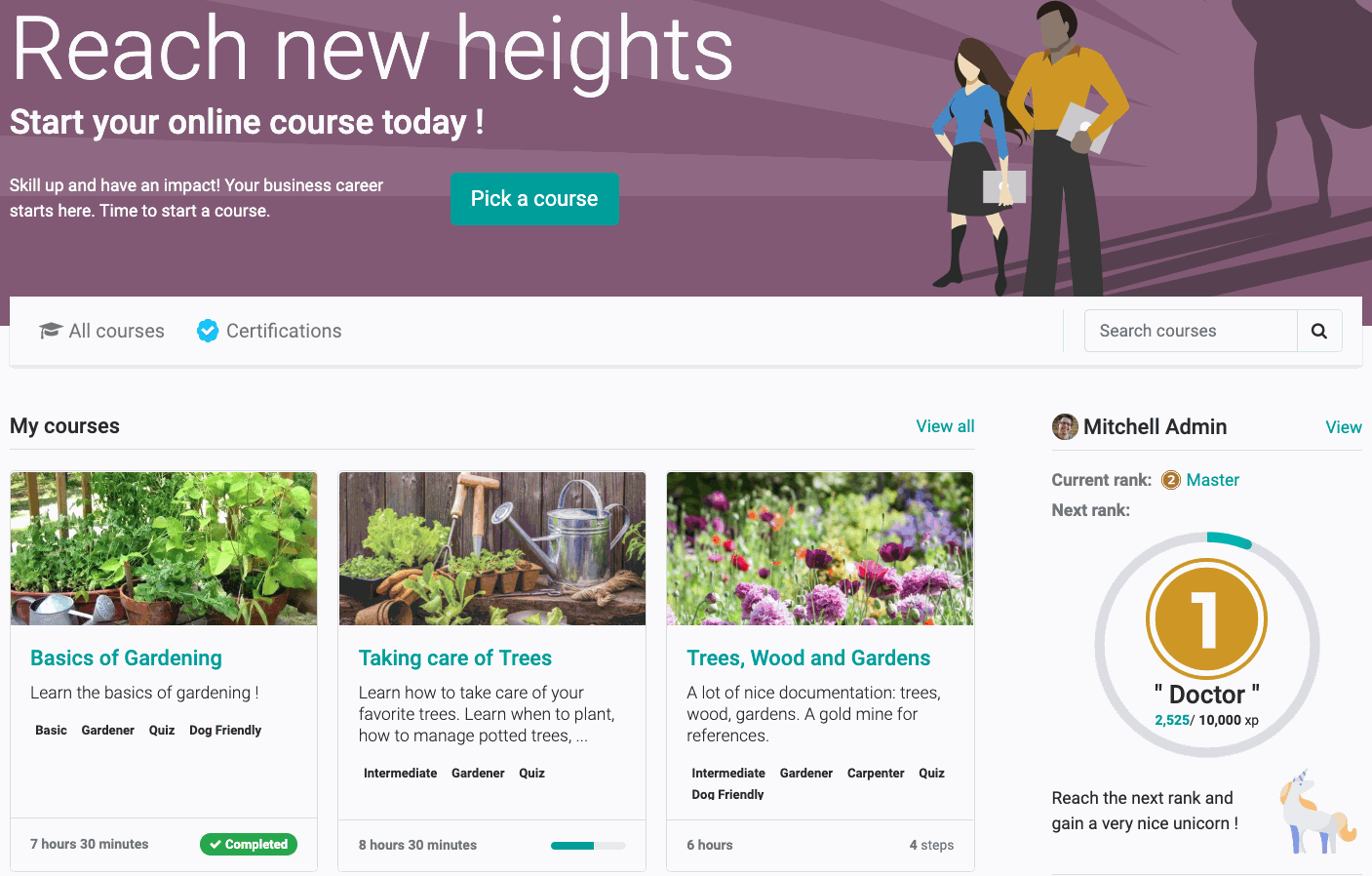 ​
THE killer feature
Odoo 13 is FIVE times faster than Odoo 12. 
That is five times faster in real-life cases. In your backend, but also on your website. We now have a blazing fast page speed according to Google as well (99 out of 100) 
I don't want to make it too technical. If you're curious, I invite you to watch these talks: 
Concepts Behind the New Odoo Framework new ORM​
Impact of the New ORM on Your Modules​ 
Thank you for your time. We hope that Odoo 13 will help your daily life! Find out more on our release note and discover for yourself by ​trying out Odoo for free.​